THE REPAIR HERO
Probiotisches Serum mit Niacinamid
Voraussichtliche Lieferzeit: 2-4 Werktage
Power Repair Serum for a more even and glowy skin
A power serum for smoother, glowy and younger looking skin! The high concentration of probiotic ingredients repairs your skin and gives you an even and glowy complexion. 
Characteristics:

Replenishing: The powerful, highly concentrated probiotics make this serum a true hero for your skin! Bifida calms down your skin and gives you a healthy complexion. Lactobacillus gives you a boost of vitamin B12 and peptides, revitalizes your skin and gives it more elasticity. 
Hydrating: Niacinamide and hyaluronic acid? A true power duo for well-hydrated skin! 
Anti-Aging: My probiotics are super effective against signs of aging and give you a smoother and more bouncy complexion! Niacinamide supports them for an even more youthful complexion by smoothing out small lines and wrinkles and minimizing your pores. 
Good to know:
No nasties: Free from Silicones - Parabens - PEGs - Microplastics - Mineral Oils - Formaldehyde - Artificial colorants - Sulfates - Drying alcohol
Dermatologically tested

 

for all skin types 

– 

even for sensitive skin
1% for the planet: 1% of all revenues will be donated to environmental projects 
Glass packaging: To reduce our plastic waste, we use glass jars for all our skincare products
Long-lasting! Lasts for more than 3 months with daily usage.
Content: 30 ml 

I'm amazed
Great product range. From the first day on, I could tell that my skin was getting better. By now, all of my friends use it as well because I recommended it.
28 people found this helpful
Natural

Cruelty free

Produced
mindfully

Vegan

Made in Korea
What's in me
Probiotika: Der Power-Wirkstoff Bifida beruhigt gereizte Haut, versorgt sie mit Feuchtigkeit und verleiht ihr so ein gesundes Aussehen. Gleichzeitig beugt er der Schädigung durch negative Umweltfaktoren wie UV-Strahlen vor. Lactobacillus sind voller Peptide und Vitamin B12. So revitalisieren und stärken sie die Haut und sorgen für erhöhte Elastizität und Festigkeit.
Niacinamid: Niacinamid ist auch als Vitamin B3 bekannt. Das besondere daran: Es ist extrem vielseitig und kann bei fast jedem Hautproblem und jedem Hauttyp eingesetzt werden kann. Es verfeinert Poren sichtbar, glättet feine Fältchen, verbessert einen unebenen, fahlen Hautton und stärkt die natürliche Hautbarriere. Außerdem unterstützt es optimal die Wirkung von Hyaluronsäure und sorgt so in diesem Serum für einen doppelten Feuchtigkeitseffekt!
Hyaluronsäure: Hyaluronsäure ist eine Substanz, die auch natürlich in deiner Haut enthalten ist und sie mit Feuchtigkeit versorgt – aber die natürlichen Ressourcen können etwas Unterstützung gut gebrauchen. Hyaluronsäure besitzt die beeindruckende Fähigkeit, mit nur einem Gramm bis zu sechs Liter Wasser zu binden. Diese Eigenschaften und die besonders effektive Kombination mit Niacinamid, macht sie zu einem Power-Wirkstoff in Sachen Feuchtigkeitspflege und lässt deine Haut gesund und frisch erstrahlen.
All Ingredients: Bifida Ferment Lysate, Glycerin, 1,2-Hexanediol, Niacinamide, Butylene Glycol, Sodium Hyaluronate, Lactobacillus Ferment Lysate, Ethylhexylglycerin, Aqua, Camellia Sinensis Callus Culture Extract, Cyanocobalamin, Polyglutamic Acid, Copper Tripeptide-1
Who am I good for
Hauttyp:

Trockene Haut
Sensible Haut
Normale Haut
Fettige Haut
Mischhaut

Hilft dir bei:

Regenerierung
Unebener Haut
Vergößerten Poren
Kleinen Fältchen
Experience me
Geruch: Sehr neutral
Konsistenz: Genau die richtige! The Repair Hero ist weder dickflüssig oder klebrig, noch so dünnflüssig, dass du Probleme beim Auftragen bekommst. Das Serum lässt sich wunderbar auftragen und verteilen.
So fühlt sich deine Haut danach an: Regeneriert und top versorgt mit Feuchtigkeit
So sieht deine Haut danach aus: Regeneriert & geglättet
How to use me
Verwende das Serum auf bereits gereinigter Haut. So kann es am besten einziehen und wirken.
Verteile 2-3 Tropfen des Serums auf dem Gesicht.
Massiere und klopfe das Serum sanft ein.
Tips from me
Achte beim Auftragen des Serums darauf, dass du deine Haut nicht mit der Pipette berührst, um diese immer sauber zu halten.
Questions about me
Milchsäurebakterien? Ist das vegan?

Ja! Der Name Milchsäurebakterien/Lactobacillus klingt zwar nach einer Verwandtschaft mit Kuhmilch, das ist jedoch ein Irrglaube. Das Serum ist, wie alle unsere Produkte, auch für Veganer geeignet.

Wie hoch ist die Konzentration von Niacinamid im "The Repair Hero" Serum?

Die Konzentration beträgt 2%.
Customer reviews
Customer Reviews
Write a Review
Ask a Question
I recommend this product
Gesichtsbehandlung
The Repair Hero ist ein Fantastisches Produkt .Mein Hautbild hat sich seher verbessert. Werde nur noch meine Gesichts Produkte bei Yepoda bestellen.
09/10/2021
Franziska W.

Germany
I recommend this product
Haut ist tatsächlich noch besser geworden
Ich habe schon andere yepoda Produkte zur Reinigung verwendet, das Serum fehlte mir noch. Meine haut ist dadurch nun tatsächlich noch ein bisschen besser geworden :)
29/09/2021
melanie d.

Germany
I recommend this product
Top zufrieden- liebe es !
Ich liebe diese Serie und habe von einer anderen zu Yepoda gewechselt. Was mir noch fehlt ? - Unbedingt eine Augenpflege PS: das Feedback gebe ich euch weil ich zufrieden bin aber 30%- eure Social Media Kanäle sind derzeit überflutet mit dem 40% Voucher- da müsst ihr aufpassen das sich der eine oder andere nicht verschaukelt vorkommt, schließlich sind wir alle ja nicht blind Liebe Grüße Melanie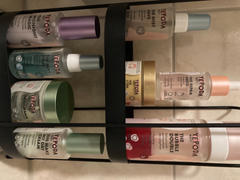 07/09/2021
Irena B.

Germany
I recommend this product
Fantastisch
Ich benutze bereits die 3 Flasche und bin immer noch begeistert.
31/08/2021
Agnes K.

Germany
I recommend this product
Gute Basis für eine gesunde Haus
Ich benutze das Serum sehr gerne, meine Haut ist rein und ebenmäßig
20/08/2021
Nina F.

Germany
I recommend this product
Schönes Serum
Das Produkt fühlt sich gut an auf der Haut. Ist nachhaltig in Glas verpackt. Ich konnte keine Duft feststellen, was mir jedoch entgegen kommt. Es macht die Haut glatt und aufgefüllt mit Feuchtigkeit. Sehr empfehlenswert. Einen Stern Abzug, da es etwas klebrig ist und dieser Film auf der Haut bleibt.
18/08/2021
Johanna-Maria F.

Germany
I recommend this product
Repair Hero
Ich habe eine Haut, die sehr schnell austrocknet oder gereizt ist. Von vielen Pflegeprodukten bekomme ich Ausschlag und durch das ständige Maske tragen, hatte ich eine dauerhaft gereizte Haut. Ich nutze jetzt seit einer Woche die Pflegeprodukte (Reinigung, Gesichtsspray und Serum) und meine Haut hat sich lange nicht mehr so toll angefühlt. Grade das Serum fühlt sich total beruhigend auf der Haut.
13/08/2021
Hedda P.

Germany
I recommend this product
Super Serum
Zieht schnell ein, hinterlässt ein schönen gesunden Glanz und fühlt sich super auf der Haut ein.
05/08/2021
Bettina S.

Germany
I recommend this product
Fantastisch
Ich liebe die Produkte von Yepoda, speziell das repair hero...man merkt wie die Haut das Serum aufnimmt...es fühlt sich einfach super an...Ausschläge oder Nebenwirkungen habe ich bis dato nicht; meine Haut ist super weich und spannt auch nicht mehr! Ich kann es nur weiterempfehlen!!