THE HAIRBAND
Größenverstellbares Haarband aus Baumwolle
Voraussichtliche Lieferzeit: 2-4 Werktage
Beauty helper for your skincare and cleansing routine 
Practical and cute at the same time! With this beauty helper, there is no more wet hair when cleansing your face and no more sticky strands when masking! It is your perfect accessory to prepare yourself for your beauty routine. Our tip: It also comes in handy when doing your make-up! 
Characteristics:
100% cotton:

Also with our accessories, using plastic is not an option for us. Our hairband is of course made of 100% soft cotton.

Washable

: Washable and reusable over and over again 

Adjustable Size:

The hairband has the perfect fit - just for you! Put it around your neck and then pull the two ends to the front. Twist the ends on top to secure the hairband.  
Good to know:
1% for the planet

: 1% of all revenues will be donated to environmental projects
The Hairband
It's great for applying makeup or other skincare routines. It looks cute and funny - definitely a unique accessory!
29 people found this helpful
Natural

Cruelty free

Produced
mindfully

Vegan

Made in Korea
Customer reviews
Customer Reviews
Write a Review
Ask a Question
28/07/2021
Nikki

Germany
Haarband
Die Produkte sind top, verwende sie seit nem 1 jahr und habe dadurch super Haut bekommen. 100% zu empfehlen. Habe mir das komplett set zuletzt bestellt, da gabs das Haarband gratis dazu. Hatte mir mehr erhofft, das band kam leider bereits "kaputt" (naht offen, sodass man den innenliegenden Draht sehen konnte) an. Schade eigentlich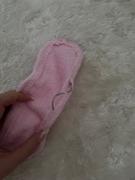 21/05/2021
Desiree B.

Germany
wir sind suess
Ich danke der lieben Franzi für diese tolle Empfehlung. Die Produkte von Yepoda sind aus meinem Badschrabnk nicht mehr wegzudenken.
21/01/2021
Lisa G.

Germany
Toller Artikel !!!
Das Haarband ist ein toller Artikel ! Es hält perfekt alle Haare während meiner täglichen Gesichtspflege aus meinem Gesicht !!
18/01/2021
Katrin M.

Germany
Reinigung
Alles kam super schnell ... und die Reinigung damit ist sehr angenehm
11/01/2021
Mike S.

Germany
Mega
Ich finde es sehr schön, pflegeleicht und süß.
05/01/2021
Sophia S.

Germany
Angenehmes Haarband
Das Haarband ist super da es sich jeder Kopfform anpasst und durch sein Material angenehm an der Haut und den Haaren anliegt. Ich finde auch super das es an den Ohren verbreitert ist, so kann man sich auch nichts einklemmen.
04/01/2021
Fadime K.

Germany
The Hairband
Ist super beim Make Up auftragen oder bei anderen Pflegeroutinen. Sieht lustig aus vorm Spiegel,mal was anderes:) Find ich super.
03/01/2021
Jaqueline K.

Germany
Super süß und praktisch
Das haarband ist super süß und praktisch. Lässt sich auch einfach anwenden.das band hält auch gut am Kopf. Empfehle ich gerne weiter.
28/12/2020
Karin U.

Austria
Geniale Erfindung
Endlich keine Haare mehr im Weg beim Abschminken.
27/12/2020
Cindy W.

Germany
Ich liebe es
Bei meiner täglichen Reinigungsroutine ist das mein treuer Begleiter geworden und definitiv unverzichtbar.